H-P offers wide range of couplings for tube and pipe joining. Including compression couplings, clamps, and more.
INSTALOK Couplings
Designed specifically for conveying plastic pellets and for other non-sanitary vacuum applications.
Offered in 1.5" through 4" sizes.
Galvanized steel construction, with O-Rings available in Black Nitrile, White Nitrile, or Viton™.
Eliminates the risk of product contamination due to deteriorating gasket material.
Installs in half the time of competing couplings, while delivering superior performance.
Costs 20% less than traditional compression couplings.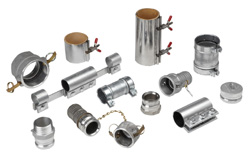 Compression Couplings
Designed for vacuum and pressure applications (up to 15 psi) in pneumatic conveying or IVAC systems.
Offered in 1.5" through 14" sizes.
Heavy-gauge, zinc-plated steel construction.
Stainless steel grounding strips (to eliminate static electricity build-up) are standard, and gasket protectors (to eliminate gasket wear) are available.
Standard gaskets are made of Black Neoprene (180°F) or White Nitrile Rubber (200°F). Also available are Silicone (400°F), Red Rubber (180°F), EPDM (250°F), and Viton™ (450°F).
Stainless steel couplings are available upon request.
Eliminator
Designed for higher-pressure applications, as well as anywhere else superior holding power is needed.
Offered in 2" through 12.75" sizes.
Construction is similar to the compression coupling, with two additional bands to add metal-to-metal gripping power.
Conversion kits are available to retrofit a standard compression coupling into an eliminator.
Super Grip
Designed as a quick coupler for dry, bulk transport tank tubing and applications involving the teardown of lines for periodic cleaning.
Offered in 1.5" through 12.75" sizes.
Type 430 bright-annealed stainless steel construction enables it to survive harsh weather or road conditions.
Available in single or double clamp configurations, providing fail-safe clamping action despite the presence of expansion, contraction, and vibration.
FDA-approved gum rubber gaskets come standard for use in food applications.
Provides better support than rubber hose and band clamps.
Aluminum Cam & Groove Couplings (quick-acting)
Designed for non-permanent connections, such as hose to equipment.
Offered in 1.5" through 8" sizes.
Female couplers are supplied with a locking feature. Safety clips may be inserted to lock the handles, preventing disconnection during product transfer. Brass security chains are available.
Stainless couplings are available.
All sizes except 5" and 8" are covered by MIL Spec A-A-59326.
Compliance with this specification allows for brand interchangeability