Much has transpired at H-P Products through the years, read on for more, or use the buttons below to jump to a specific period of time:
1945
Harold Bishop and Paul Schumacher form a partnership to manufacture gas conversion burners for residential coal furnaces.
1946
H-P begins to manufacture hospital cabinets and boat trailers in Louisville, OH.
1948
H-P Products incorporates.
1951
H-P diversifies by expanding into metal elbow ends.
1952
H-P begins supplying light wall tubing and bends to the Industrial Vacuum Industry.
1953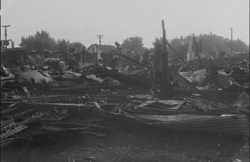 H-P is completely destroyed by fire and rebuilds.
1955
H-P launches a new product line called VACUFLO® True Cyclonic®, a revolutionary built-in residential central vacuum system that requires no bags or filters.
1957
H-P introduces a second VACUFLO home unit.
1958
H-P locates its Administrative Office Building on Gorgas Street in Louisville, OH  (where it is still located today).
1959
H-P introduces three new VACUFLO units, the H-22, H-30 and H-32.
1960
H-P completes first Broad Street Plant expansion to accommodate larger Bending Center and a Pines #6 Bender.
1961
H-P revolutionizes the Residential Central Vacuum Industry by introducing light-weight, less expensive plastic tubing.
1962
VACUFLO Models 26 and 28 are added to H-P's product line.
1964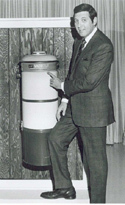 H-P Partners with Diebold, producing parts and tube bends for their banking products.
H-P introduces a dual motor VACUFLO unit for commercial use.
Monty Hall debuts VACUFLO on "Let's Make a Deal."  
1965
Harold Bishop passes away; Mabel Bishop assumes H-P Presidency.
1967
H-P introduces VACUFLO Model unit 14. H-P builds warehouse addition to Broad Street Plant.
1968
H-P expands Broad Street Plant capabilities and capacity with new bending equipment.
1969
H-P completes a new cleaning tank addition to the Broad Street Plant.
1972
H-P patents the VACUFLO Lexan Inlet Valve.
H-P develops a new central vacuum unit for Recreational Vehicles (RVs).
1973
H-P introduces a second central vacuum unit for RVs.
1974
H-P expands Broad Street Plant warehouse.
1975
Paul Bishop becomes President of H-P Products.
1978
H-P introduces light-weight, wireless plastic hoses to the Central Vacuum Industry.
1980
H-P designs the first turbine power brush in the central vacuum industry.
1981
H-P completes construction of a second manufacturing facility on Main Street in Louisville, OH.
David Bishop assumes Vice Presidency of H-P.
1982
H-P introduces the RugRat, a handheld turbine power brush.
1984
H-P renovates Administrative Office Building. H-P launches four new VACUFLO units.
1985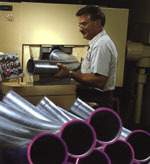 H-P begins mass production of automotive parts.
H-P purchases end-forming machine to increase tube expansion capabilities.
1986
H-P's bending capabilities expand with new equipment.
VACUFLO systems begin using 2" PVC tubing and fittings.
1987
H-P completes first addition to Main Street Plant.
1988
H-P opens state-of-the-art Metrology Lab at Broad Street Plant.
1989
H-P completes second addition to Main Street Plant.
H-P installs robotic welding equipment to enhance production of custom parts.
1990
H-P introduces a new generation of quieter more efficient power units.
H-P releases a second generation turbine power brush, called the TurboCat.
1991
H-P's TurboCat receives the Excellence Award for Industrial Design.
H-P launches the M-260 VACUFLO power unit.
1992
H-P introduces DuraCan Elite, a clear dirt canister for VACUFLO units.
1993
H-P purchases CNC bending machines to enhance Bending Center capabilities.  
1994
H-P begins fabricating plastic tubular parts and increases cut-off work cell capacity.
1995
H-P introduces two new high-performance VACUFLO units, Models 560 and 960.
1996
H-P launches new METFLO® air system components for industrial vacuum, pneumatic conveying and carrier pneumatic markets.
H-P adds Welding Center and improves CNC bending expertise at Broad Street Plant.
H-P expands and moves the Machine Shop and Metrology Lab to Main Street.
H-P moves VACUFLO production to Broad Street and introduces new VACUFLO power unit.
1997

H-P partners with U.S. Coupling to provide METFLO compression couplings.
H-P completes a 60,000 sq. ft. addition to Main Street Plant.
H-P acquires the Tubeform Division of HMI, Inc.
H-P Launches www.vacuflo.com to market VACUFLO online.
1998
H-P celebrates its 50th birthday.
H-P restructures into two business units

Floorcare
Tubular Products.

H-P expand Metrology Lab capabilities and equipment.
1999
H-P produces its five millionth stabilizer bar for the automotive industry.
H-P is first in central vacuum industry to offer consumer online ordering at www.vacuflo.com.
H-P introduces VACUFLO's new twin motor unit, Model 760.
2000
H-P achieves ISO 9002 Certification.
H-P launches www.metflo.com, Tubular Products' interactive website.
2001
H-P introduces two new bagless, no-vent central vac units designed with its patented Filtered Cyclonic technology.
H-P offers 24/7 direct online ordering for VACUFLO dealers.
H-P Floorcare begins exclusive licensing agreement with Royal Appliance Mfg. Company to manufacture Dirt Devil®, Platinum Force® and Royal® branded central vacuums.
2002
H-P adds DUCT Components product line to METFLO.
H-P enhances link bar production with new generation of robotic weld cells.
H-P markets new larger Filtered Cyclonic unit.
2003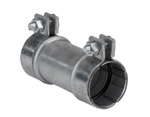 H-P becomes certified to ISO 9001:2000.
H-P launches a new Dirt Devil® RV unit to the recreational vehicle market, and a new Filtered Cyclonic unit for smaller homes and condos.
H-P introduces the revolutionary METFLO Instalok coupling; it wins the Powder and Bulk Solids 2003 Innovation Award.
2004
H-P launches two new quieter, more powerful VACUFLO units- True Cyclonic Q series.
H-P increases CNC bending capability to 6" OD tubing.
2005
H-P adds new 4" CNC bending machine, and improves welding efficiency with 3-D modular fixturing and welding tables.
H-P caters to the plastic processing industry by introducing PriceFitters.
VACUFLO celebrates its 50th birthday.
H-P introduces a more powerful, but quieter, series of Filtered Cyclonic units -the Whisper, Tranquility and Dynamic units.
2006
Allen Green named President and COO of H-P Products.
Greg Calderone named Vice-President of H-P Products.
H-P moves Floorcare Operations to North Canton, Ohio.
H-P introduces TurboCat Zoom turbine powerhead.
H-P expands production with purchase of two CNC bending machines, two Pines Benders (#6 and #8) and four Proto-1 end forming machines.
2007
H-P continues to invest in new equipment for CNC bending, marmon beads, end forming and pressure testing.
H-P introduces new websites for the Custom OEM and METFLO businesses.
2008

H-P introduces the MaxAir power unit, the first central vacuum designed to power central vacuum hose management systems.
H-P introduces the Vroom, a quick-clean hose management accessory designed to install in cabinets for clean-ups in high-traffic areas of the home such as kitchens and bathrooms.
2009
H-P purchases a 4000 Watt Mazak Space Gear 510 Mark II Laser for increased product capabilities for the Tubular Products division.
H-P Certified ISO 9001:2008.
H-P adds Spot to the Vroom family of quick-clean products.
2010
H-P launches a revamped VACUFLO.com website.
H-P introduces the next generation of Vroom product including Vroom Garage.
H-P introduces the Element power unit, an inverted filter bag system.
H-P welding procedures certified to standards of the American Welding Society (AWS).
2011
H-P consolidates their Tubular Products brands, eliminating the Custom OEM, METFLO and Pricefitters names. All Tubular Products brands now known as H-P Products Engineered Tube Bends.
H-P launches the Maxum paper bag filtration power unit.
H-P launches new corporate website, www.h-pproducts.com, showcasing both the newly consolidated Engineered Tube Bends and Central Vacuums divisions.
2014
Rebekah Eisenbarth named Vice-President of H-P Products.
2015
H-P adds its first all-electric bender, the Unison 100 Breeze CNC, as well as a Tube Inspect Optical Tube Measurement System.
2016
H-P adds new Unison 150 Breeze stacked CNC bender.
2018
H-P adds 2 CNC Mills, 6 welders and a Mazak 6-axis laser. 
2019
H-P adds the following equipment:  6" CNC bender, 8" CNC bender, 10" CNC bender, 3D Printer for quick fixturing, Lathe, and Hydrogen test unit for highly sensitive testing.
H-P launches Vroom Retract Vac, the first central vac retractable hose system designed specifically for garages. 
H-P launches Chameleon Retractable Hose System, its proprietary retractable hose management system for central vacuums.