Chiller Tubes are most often used in large HVAC units carrying both water and air.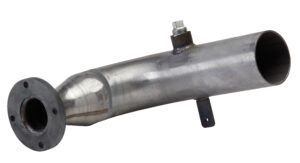 Parts for Chiller Tube applications are usually manufactured from stainless tubes or carbon steel pipe and tubing. Leak-free parts are important since many applications are pressurized.
Although the form of these parts often resembles radiator tubing, they use very different end treatments including Victaulic grooves and flat face flanges We also supply split flange ends for Code 61 and 62 HVAC applications.
These applications are not as cramped as radiator and engine compartment areas, so bends tend to have a milder radius. Wrinkle-free inner walls are still essential to prevent turbulence.
Key High-Performance Capabilities:  End forming, bending, leak testing, tube cleaning to exacting standards including SAE J 1726
Key Markets for H-P Chiller Tubes: