Loose particles and trace lubricants can do a lot of damage.  They can cause catastrophic failure in motors, fans and premature wear to tube interiors. Our in-house, High-Performance Cleanliness Procedures protect our customer's products and processes.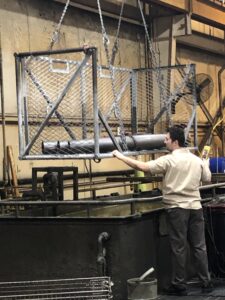 At H-P Products, we understand that cleanliness specifications are crucial, especially for customers in motor applications. That's why we've invested in advanced cleaning equipment right here on our shop floor, ensuring we efficiently meet the strictest cleanliness standards while upholding our reputation for timely deliveries. With us, there's no need to outsource cleaning or wait for external lab verifications.
Our High-Performance tube and bend cleaning system feature three key components, all designed to give you complete control over meeting your cleanliness specifications. These cleaning processes effectively remove loose particles and lubricants from your components:
Wash and Rinse Tanks: Our large tanks efficiently remove oils, greases, and loose particles.
Rotating Nozzles: High-pressure water is used to clean tube interior surfaces, eliminating unwanted particles and most oils.
Swab Area: Rags are pulled through tubes and bends to clean out large particles, with additional removal of some oils and greases.
You have the flexibility to choose any or all of these cleaning processes to precisely meet your unique specifications. And for your peace of mind, our fully-equipped testing lab ensures that every part is rigorously checked for cleanliness, with all the necessary verification documentation provided.
At H-P Products, it's about giving you the power to maintain the quality and performance of your products with our tailored cleaning solutions.