When pneumatically conveying materials, minimizing air turbulence is critical. Pneumatic Conveying Systems require short and long radius tube bends with smooth inner surfaces and no wrinkling to impede airflow.  Our ability to provide smooth bends, coated inner surfaces, and quickly quote and ship parts from our large parts inventory helps customers build and maintain systems in a timely fashion.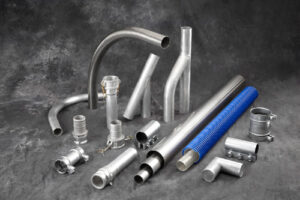 Standard Tubing and Pipe:
Carbon, stainless steel, aluminum, and galvanized steel
1.5" to 10" OD in 11, 12, 14, and 16 ga. wall thicknesses
Can supply up to 14" OD tubing
Pipe in 1" to 8" NPS in Schedule 5, 10, 40, and 80 wall thicknesses
Straight tube and pipe in 20' lengths
Can provide cut-to-length tube and pipe
Extensive inventory of tube and pipe bends, fittings, and couplings
Custom bends, end forms, and fittings are available
Special Services:
Shot peening

- Directional shot-peening produces a dimpling effect that has been found to reduce the formation of fines, fluff, and streamers within pneumatic conveying systems

Porcelain Coating

- Porcelain enamel is a glassy compound that is adhered to the inside diameter of a tube or pipe

Spiral Grooving

- Spiral grooving of the tube or pipe ID creates turbulence in the conveying air stream, which minimizes the frequency of impact and reduces pellet smearing

Ceramic Coating

- Ceramic coating is composed of a proprietary matrix of high alumina ceramic beads and fillers

Custom interior and exterior finishes are available
We maintain over 1 million lineal feet of tubing, pipe, and bend inventory for customers who move plastics, polymers, bulk powder, and dry materials. This includes short and long radius tube and pipe bends, fittings, couplings, and accessories. H-P Pneumatic Conveying System components are compatible with all types of industrial blowers.
Major Markets Served:
Plastics and Petrochemical
Plastic recycling
Food
Chemicals
Pharmaceuticals
Cement
Agriculture