Searching for ways to help customers save time and money, we developed a High-Performance kitting program to simplify inventorying and installing our parts. It is especially useful to customers who take a total cost approach to their operations.
The H-P High-Performance Kitting program combines multiple SKUs into a single SKU, simplifying customer inventories while making parts easier to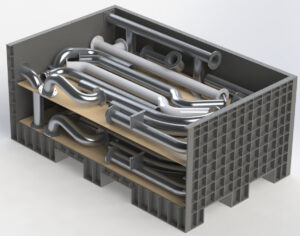 pick and assemble.  Kitted parts are packaged together.  Sequential packaging is available to make it even easier to pick parts in the order they will be assembled.  This can significantly reduce wrench time while eliminating lost and damaged parts.
From a total cost perspective, kitting often cuts inventory, picking and production costs so drastically makeing the extra cost well worthwhile.
Working closely with customers we can package parts in any manner required:
Disposable packaging
Returnable, reusable dunnage
Custom-made packaging
Sequentially ordered packaging to simplify assembly