H-P precision shines in carrier pneumatic applications where a perfect fit is required between carriers manufactured by one company and tubing by another.  Our ability to manufacture wrinkle-free metal and PVC tube bends is critically important.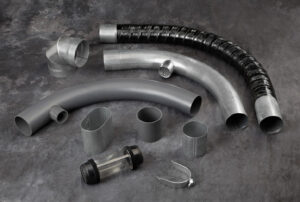 Standard Metal Tubing:
2.25" OD to 6" OD
4" x 7" OD Oval Tubing
. Straight and One End Expanded
Standard PVC Tubing:
4.625" OD x 4.385" ID
Straight and One End Expanded
Bends, Couplings and Fittings in Metal and PVC:
Long radius bends at 15°, 30°, 45°, 90°
Segmented elbows, tees and wind gates, bypasses, twists and caps
Full range of couplings and joining methods
Hangers
Special Services:
Tapecoat

- For additional corrosion protection underground, we can apply a tar-backed tape to the outside of the part
H-P was a pioneer in supplying tubing and tube bends for carrier pneumatic applications and remains the major supplier. Our mastery of the mandrel tube bending process enables us to create accurate, wrinkle-free bends with smooth inner walls that never interfere with the airstream or moving carriers. We constantly work with carrier manufacturers to ensure a precise fit for every carrier used in these applications.
Our sizable inventory of stock tubes, bends, fittings, and couplings enable us to fast ship parts at exceptionally competitive prices.
Major Markets Served:
Banking
Pharmacy
Medical
Document Transfer
Payload Delivery