Real-world engineering uses prototypes to bring design ideas to life.  H-P engineers work closely with the Machine Shop to provide initial parts for customer trial and approval.  Our large inventory of toolsets and raw materials helps us produce prototypes to keep custom parts programs moving forward.

H-P can produce fast prototypes due to: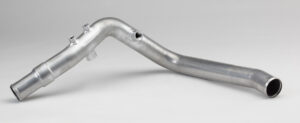 Full metal fabrication capabilities, including bending, welding, laser cutting, shearing, forming, and more.
Over 1 million linear feet of tubing in stock
Over 1900 bend sets in stock
ISO 9001:2015 With Design quality processes ensure precise dimensions
Working with engineering, the H-P Machine Shop can produce timely prototypes of any part, including those with complex bends, welds, fabricated brackets and flanges.
Prototypes are produced quickly and shipped to customers for pressure and installation testing.  When producing a custom tube or pipe bend, these prototypes are the best assurance a new part will perform as expected and properly fit into a customer's assembly.