H-P High-Performance Quality Testing includes the sophisticated in-house capabilities to provide customers with the verifications they need while helping us improve our own processes.
High-Performance means high reliability.  There are two sides to our quality testing program, both designed to improve the reliability of our products.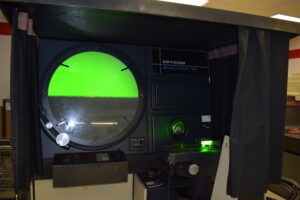 Customer-Oriented Verification: Ensuring the parts we deliver meet those specs and provide the necessary documentation, including verification of measurement accuracy.
Continuous Improvement: By closely monitoring, testing, and recording every internal process, we uncover root causes when things fall short of expectations.
Our in-housing testing lab includes calibration testing equipment to ensure the accuracy of our data and a variety of specialized equipment for measuring tube and pipe bends.  Our large bed tube inspection machines are especially sophisticated with 16 cameras attached to software making it easy to quickly compare large or batched parts to images of perfect profiles.
We can even reverse engineer parts using a Faro Scanner to create new drawings from scans of old, even deformed, parts.