H-P became the market leader for industrial vacuum system components by providing an extensive line of vacuum piping, tubing, bends, couplings, and fittings. We ensure parts fit together easily for no-leak connection and offer a range of interior wall finishing and coupling options.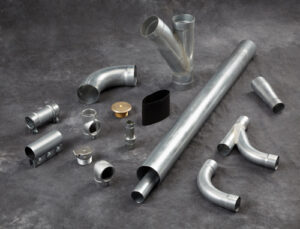 Standard Tubing:
2.375" to 14" OD
1.5" and 2" OD available on request
All standard parts available in Carbon, Stainless, Aluminum and Galvanized Steel
Pipe Bends Schedule 5, 10, 40, 80 are available
Short and long radius elbows and bends
Custom sizes and bends available
Fittings and Couplings:
Wide range of coupling products for joinery
Full range of single and double inlet fittings
Full range of adapters
Special Services:
Porcelain lining

- Porcelain enamel is a glassy compound that is adhered to the inside diameter of tube or pipe

Ceramic coating

- Ceramic coating is composed of a proprietary matrix of high alumina ceramic beads and fillers
Extensive supply of Accessories
H-P Industrial Vacuum System Components offer plenty of choices with high-quality tubing and connections that won't interfere with airflow. Male and female parts can be assembled to face away from airflow, ensuring a smooth path for conveyed materials. H-P tubes and tube bends are compatible with all industrial vacuums.
Our extensive line of couplings also makes it possible to construct modular systems that can be easily taken apart for cleaning or reconfiguration.
Major Markets Served:
Commercial car wash vacuum systems
Pulp and paper
Scrap recovery
Foundries
Refractories
Car repair facilities
Composite materials
Bakeries
Pet food manufacturing
Plant maintenance